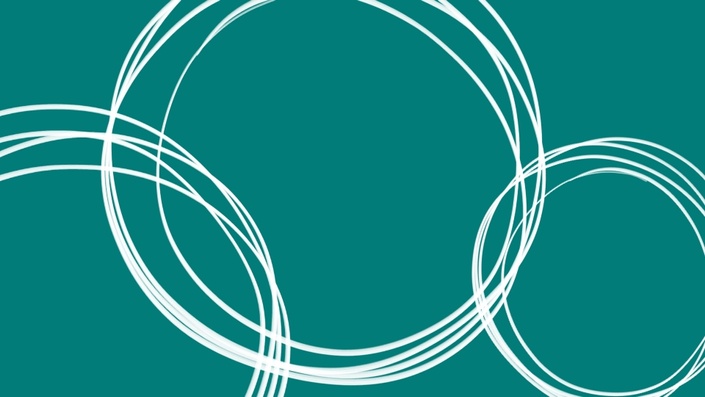 Business Writing FUNdamentals
Refuse To Be Boring
We #RefuseToBeBoring and so should you!
The Story Mode Business Writing FUNdamentals course is a (re)introduction to business writing that's right for people at all career stages. It's a convenient, effective way to brush up on brevity, accuracy, and overall style.
"I learned creative ways to adjust my approach and change up my communication."
The full course includes six sections, each featuring a video segment, reading and writing assignments, and useful resources to download. We've included some short quizzes too, with answer keys so you'll know you're on the right track. Working on a project from your own to-do list, you'll learn to apply creative writing strategies to the everyday demands of emails, blog posts, social media content, sales pitches, articles, reports, proposals, speeches, or other projects.
Your guide is Beth Nyland, the Corporate Poet and Cutter of C.R.A.P. She'll lead you, encourage you, and work like crazy to convince you that business writing is creative writing, and that it can actually be fun.

Business Writing Skills that Work Harder for You
The objective is not just to learn and practice skills, but to become a more confident business writer—helping you gain attention, recognition, and even promotions. Whatever your goals, let your writing work harder for you.
Flying solo?
This online course is a good option for those who want to hunker down and work alone. Progress at your own pace. If you're hungry for feedback, you can use the course's comments feature to converse with the Story Mode team and other students.
Prefer to collaborate?
This course is even more fun with a crowd. Round up some colleagues and get everyone to enroll at once. You'll learn together while exchanging feedback on one another's work. What an excellent way to experience the power of the PEN (your Peer Editor Network, that is)!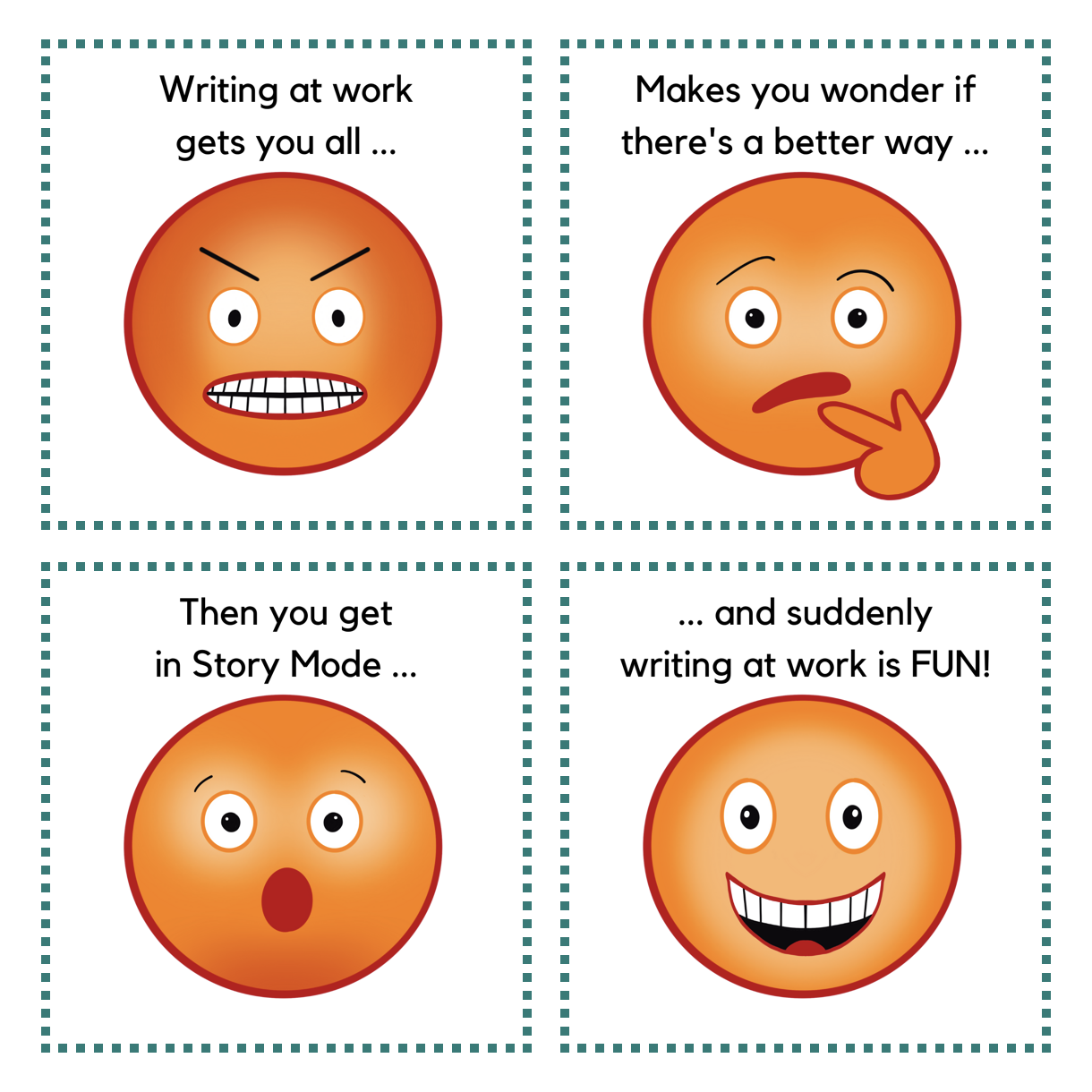 Feeling Some Not So Sweet Emotions?
We get it. Writing at work can be annoying. Make that frustrating. Make that terrifying. Make that [insert your own emotion here].
It ain't easy getting the right words on the page (of course we mean the ones that will get approved AND inspire your audience to take action).

Can storytelling really help? You betcha! Being In Story Mode can make all the difference.
In six fun, energetic, interactive, useful, practical, challenging main lessons, you'll change the way you think and feel about business writing—and how to get it done. You'll learn storytelling basics and how to rethink your audience to get what you need from them.
Business Writing FUNdamentals will help you put your best self forward with every word you write. You can learn at your own pace and choose to share your work with the community and instructor.

Business Writing IS Creative Writing
Who says what we write at work has to be boring? In fact, these days, your business communcations are fighting for time and attention against ... well, against everything.
Whether you're composing emails, blog posts, social media content, sales pitches, articles, reports, proposals, or speeches, in Business Writing FUNdamentals you'll learn the skills for crafting more than just clear and concise communications, you'll be writing persuasive stories to help you get stuff done!
"Chock full of hands-on ideas I can't wait to use to release my creativity.
We are like no other writing guides.
It's not boasting, just a fact. The Story Mode team uses everything in their arsenal – creative writing, fiction, poetry, illustration, painting, drama, humor, improv, and tons of experience – to get people to stop just writing sentences and begin to tell stories. Why stories? Because they're not boring, they are a part of our collective DNA, they help us teach and understand, and above all, they help get the job done.
In this self-directed online course, you will explore some of the key aspects of writing with style and confidence, message planning, finding the right words, and polishing your writing.
Along the way, you'll pick up techniques from business and creative writers, along with lessons learned from your own experiences to put your best self forward in your writing. Starting now, think of business writing as a creative process, where you're telling stories that move your organization – and even your own career – forward.
Learn at your own pace, in your own time
Each lesson is filled with features, including videos offering guidance and wisdom from instructor Beth Nyland. But you're not just watching; you're doing. You'll answer "food for thought" questions, read and write, and take grammar quizzes. Yahoo! Grammar quizzes! You'll find tools to download and even some bonus surprises.
What will you get, in the end?
Good question. A hallmark of the Story Mode program is that in addition to being fun and insightful, all of our courses and workshops are incredibly practical and immediately applicable. Each lesson you complete will have you tackling work projects with fresh eyes and new ideas.
When you complete the course, you also get bonus downloads and even a certificate to show your boss. Or your partner. Or your mom. Or your kids. Or your friends. Or every gosh darn one of them!

Course highlights include:
Writing With Confidence & Style
Why Confidence?
Writing Wisdom
Before You Write
Make Strategic Choices
Asking the Right Questions BEFORE You Start Writing
Finding the Words
A Critical Second Look
Stop Writing Upside Down
Mine for Golden Nuggets
Editing & Revising
Presentation Is (Almost) Everything
Polishing Your Work Through Disciplined Editing and Revision
Putting Your New Skills to Work
A Few Last Words from Your Instructor
BONUS Materials
Ready to release your creativity and get sh#t done?! Enroll now and get started.
Your Instructor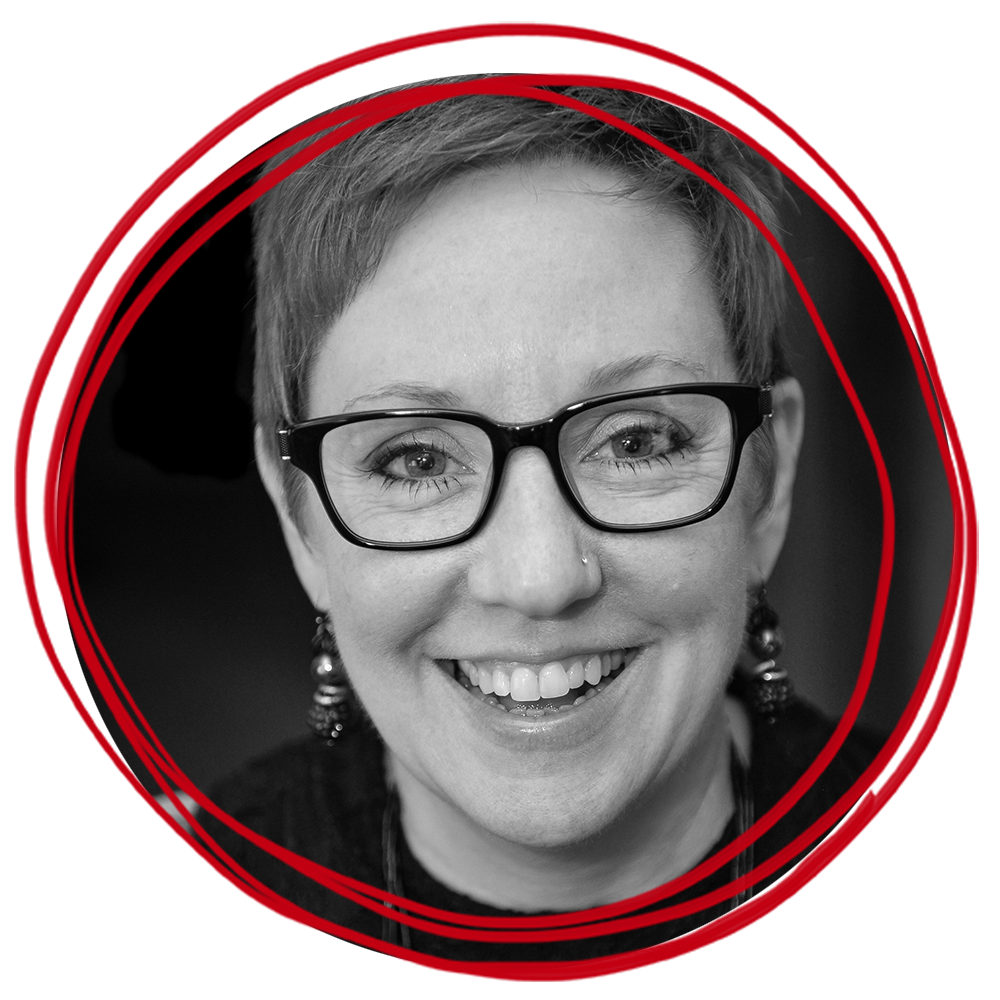 Beth Nyland
Corporate Poet & Cutter of C.R.A.P.
Story Mode Co-Founder
Beth Nyland refuses bland and boring. Instead, she guides individuals and organizations to string words into stories that motivate people to think, believe, and take action. After all, that's how business gets done.
Beth is co-founder of Story Mode, a unique program that trains, coaches, and advises business people to use the power of storytelling and apply creativity to get things done at work. Her experience includes both agency and corporate roles, all focused on raising the quality of internal and external communications, often with global teams. She is principal of Spencer Grace, a consulting firm serving a variety of corporations and individuals, including John Deere, JLL, Goodwill Industries, PepsiCo, Inc., Unilever, and more.
Beth serves on the board of directors for Literacy DuPage. You can find her on Instagram and Twitter as @bethnyland, and if you're on LinkedIn, please follow her monthly articles.
Together with her Story Mode co-founder, Jill Pollack, Beth has brought these organizations into Story Mode: Accenture, Aon, Beam Suntory, Chicago Mercantile Exchange, Health Care Services Corporation (Blue Cross/Blue Shield) FCBChicago, Federal Reserve Bank of Chicago, LyonsCG, Regional Transportation Authority, SmithBucklin, Society of Actuaries, and more.
Course Curriculum
3. Finding The Words
Available in days
days after you enroll
Frequently Asked Questions
When does the course start and finish?
The course starts now and never ends! It is a completely self-paced online course - you decide when you start and when you finish.
How long do I have access to the course?
How does lifetime access sound? After enrolling, you have unlimited access to this course for as long as you like - across any and all devices you own.
What if I am unhappy with the course?
We would never want you to be unhappy! If you are unsatisfied with your purchase, contact us and we'll do what it takes to make you happy again.